EDI deionized high purity water equipment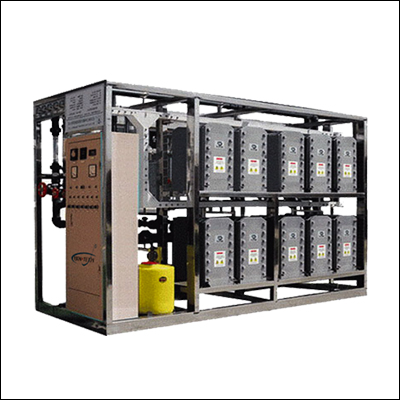 Product:EDI deionized high purity water equipment
Catalogue:Labelling machines
Views:177553times
Update:2018/10/10 10:07:31
Call:133-6065-4218
Introduction of EDI electric desalination and deionization equipment:
EDI, also known as continuous electric desalination technology, it scientifically combines electrodialysis technology and ion exchange technology, through the selective permeation of anion and cation in the anion-cationic membrane stack and the exchange of ions in the water by ion exchange resin. Under the action, the directional migration of ions in water can be realized, thereby achieving deep purification and demineralization of water, and continuously regenerating the charged resin by hydrogen ions and hydroxide ions generated by water electrolysis, thereby continuously manufacturing without acid-base chemicals regeneration. Take high quality ultrapure water.
EDI electric desalination deionization equipment process:
Raw water → original water tank → raw water booster pump → quartz sand filter → activated carbon filter → scale inhibitor feeding equipment → precision filter → first stage high pressure pump → first stage reverse osmosis system → second stage high pressure pump → second stage Osmosis system→EDIP pump→EDI system→Ultra-pure water tank→Water supply pump→UV sterilizer→post filter→water point
Advantages of EDI electric desalination and deionization equipment:
· No need for acid-base regeneration: Resin needs to be regenerated with chemicals in the mixed bed, while EDI eliminates the handling and heavy work of these harmful substances. Protected the environment.
·Continuous, simple operation: In the mixed bed, the operation process becomes complicated due to the change of each regeneration and water quality, and the water production process of EDI is stable and continuous, the water quality is constant, and there is no complicated Operating procedures, operations are greatly simplified.
• Reduced installation requirements: The EDI system has a smaller volume than a mixed bed that handles a considerable amount of water. It uses a modular structure that can be constructed with a high degree of flexibility depending on the size of the site.
EDI electric desalination deionization equipment application field:
·Ultra-pure water treatment in industries such as electronics, semiconductors, printed circuit boards and integrated circuits, and precision machinery manufacturing
·Processing pure water treatment in industries such as fine chemicals, sophisticated science, and cosmetics manufacturing
·Health-grade pure water treatment in food, beverage and other industries
·Purified water treatment in pharmaceutical, medical, life science and other industries
· Wastewater treatment in industries such as metallurgy, light industry, electroplating and leather
· Low-pressure boiler feed water required softening water and demineralized pure water treatment
·Seawater and brackish water desalination treatment
EDI electric desalination deionization equipment after-sales service:
· Provide home installation and commissioning
·One year free warranty
EDI electric desalination deionization equipment about us
Qin Taisheng has a professional water treatment technology research and development team and a comprehensive after-sales service system. Based on years of industry experience, we develop water treatment equipment that meets the needs of our customers, and design more reasonable and scientific solutions and equipment architecture.