Ultrafitration membrane module
您当前位置:
贴标机首页
> Adhesive backing machine > speaker sticker backing machine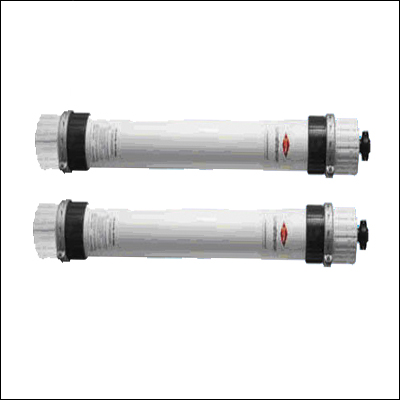 产品名称:Ultrafitration membrane module
产品分类:Adhesive backing machine
浏览次数:177649次
更新时间:2013/3/26 15:40:00
咨询热线:133-6065-4218
Ultrafiltration (UF) works:
Ultrafiltration technology in recent years, relying on materials science to develop the advanced membrane separation technology, has been widely applied to industrial and municipal construction in various fields.
Ultrafiltration (UF) is a pressure-driven membrane separation process, which uses porous materials ability to intercept, the particulate matter from the fluid and dissolved components separated. The typical membrane pore size in the 0.01-0.1 micron range, for bacteria and most viruses, colloids, silt has a high removal rate. The smaller the nominal pore size membrane, the removal rate is higher. Ultrafiltration membranes are commonly used polymer materials, the basic nature of the hydrophobic in nature. Able to blend other hydrophilic modification. The process for the room temperature operation, no phase change, and no secondary pollution.
Ultrafiltration using polyvinylidene fluoride (PVDF) material, the Department of dual hollow fiber structure of the cortex. In the industrial applications of PVDF membrane, the ultrafiltration with the smallest nominal pore size, can remove almost all particles, bacteria (4-log removal), most viruses and colloids. Although the pore size is small, but its high porosity makes the ultrafiltration and microfiltration to obtain considerable flux, which in most cases is a better choice than MF.
UF used to plug the external pressure is not easy to structure, with a higher amount of pollutant, the greater the filtration area, and easier to clean thoroughly. Flow pattern-based design to full-flow filter, but the components can be easily converted into a cross-flow filtration mode. Compared with cross-flow, full flow filtration and low consumption, low operating pressure, and thus lower operating costs. In contrast, cross-flow filtration of suspended solids is able to handle more fluid. Therefore, according to the specific needs of the operation in the form of suspended solids in water content to determine.
Usually constant ultrafiltration run, transmembrane pressure (TMP) will gradually increase over the execution time, this time through regular backwashing or air pollution can be cleared scrub layer, the use of fungicides or other cleaning agents are able to more thoroughly control of microbial removal of contaminants.
In the field of water treatment, ultrafiltration can be used out of the water particles, colloids, bacteria, viruses, heat, protein and organic polymer, the water to be purified.
Advantages and characteristics of ultrafiltration
* Long life: the performance of PVDF ultrafiltration using special hydrophilic material and have been modified, has excellent antioxidant and anti-fatigue, anti-pollution, anti-clear, greatly extending the life of the film wire.
* High quality water production: the average ultrafiltration filter accuracy 0.03μm, bubble point pressure higher removal rate of bacterial 6-log, making it better capacity water quality.
* Wide range of applications: ultrafiltration of the external pressure structure and patented water distribution means, to allow a wider water suspended solids content, more suitable for the application of poor water quality conditions, while ensuring a high water recovery.
* Low operating costs: UF external pressure can be low-cost way to clean air and water mix, and efficient long-term stability to maintain throughput, saving chemical cleaning agent consumption.
Products

SFP Series

Application

Pre-industrial water supply

Waste water reuse

Drinking water treatment

Model

SFP-2640

SFP-2860 S

SFP-2660

SFP-2660

FP-2880

SFP-2860

SFP-2680

SFP-2880

Size

Length (mm)

1356, 1856, 2356

1860, 2360

1856, 1860, 2360

OD (mm)

165, 165, 165

225, 225

165, 225, 225

Area(m2)

20, 33, 44

52, 70

33, 52, 70

Basic parameters

Forms(Outside-In flow)

hollow fibers

hollow fibers

hollow fibers

Basic Polymeric

PVDF

PVDF

PVDF

nominal pore diameter (μm)

0.03

0.03

0.03

outside diamete(mm)

1.3

1.3

1.3

Flux(lmh)

50-120

40-100

60-120

pH Range

2-11

2-11

2-11

Temperature ℃

1-40

1-40

1-40

Feed Pressure (bar)

6

6

6

NaOCl, Cleaning Maximum(ppm)

5,000

5,000

5,000

Typical process conditions

Operating TMP(bar)

2.1

2.1

2.1

TSS (ppm)

100

150

100

Particle Size(μm)

50

50

50

Journal of the largest fiber (ppm)

300

300

300

typical fiber journal(ppm)

5

5

5

Max.Feed Backwash (bar)

2.5

2.5

2.5

Backwash Flux(lmh)

100-200

100-200

100-200

Backwash Cycle Time

15-60 min

15-60 min

15-60 min

one time

one time

one time

Backwash Time(sec)

30-60

30-60

30-60

typical chemical cleaning cycle

4-12 time/year

4-12 time/year

4-12 time/year

Air wash Cycle time

1-12 time/day

1-12 time/day

1-12 time/day
Drinking water equipment:
Water shortages, exacerbated by the status of surface water pollution threat to human drinking water source. SFP Series ultrafiltration products, high filtration precision of the water of suspended solids, colloidal impurities, in particular, removal of Cryptosporidium, Giardia, E. coli and other pathogenic microorganisms has a very high removal efficiency. By relevant state departments of health inspection for the safety of your drinking water to provide the most economical and reliable protection
RO Pretreatment:
Ultrafiltration to reverse osmosis system to provide a more stable, better quality water water, reverse osmosis membrane to maximize the protection from pollution and congestion, greatly extending the life of reverse osmosis systems. SFP Series Ultrafiltration products in China's electric power, petrochemical, petroleum, electronics and other fields of reverse osmosis pretreatment system is widely used, the processing in quantities greater than 600,000 tons of market share ahead.
Industrial wastewater, municipal wastewater reuse:
Ultrafiltration to remove industrial waste and municipal waste water of suspended solids, colloids, organic matter and other impurities, in order to achieve the depth of wastewater and sewage treatment and reuse of available pre-security. SFP Series ultrafiltration products, 8-inch diameter, large pollutant components, wire withstand tough PVDF membrane more frequent water, gas and chemical cleaning.
Water filtration:
Ultrafiltration excellent performance to completely replace the coagulation, sedimentation and filtration of the traditional multi-media approach. Multiple reverse osmosis desalination system at home and abroad, in order to provide high-quality reverse osmosis desalination, water stable, set a model for sea water applications.
Currently, more and more SFP ultrafiltration device has been put into operation in China, in power, steel, petrochemical and other industries of industrial water-saving and environmental protection areas, are playing an increasingly important role.
Ultrafitration membrane module相关内容

此信息暂时没有添加,请登录网站管理系统添加此信息!