A head to LFC series neutral membrane pollution resistance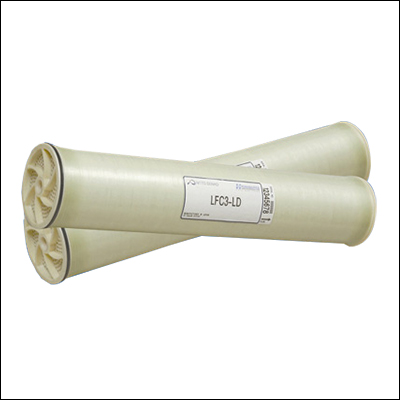 Product:A head to LFC series neutral membrane pollution resistance
Catalogue:Adhesive backing machine
Views:177558times
Update:2013/3/26 15:39:57
Call:133-6065-4218
LFC ® (that is, the abbreviation Low Fouling Composite) membrane is Hydranautics company in the world in 1998, pioneered polluting low pressure composite membrane, LFC ® series represents Hydranautics in aromatic polyamide composite membrane making another new breakthrough in the field. LFC ® series of membrane not only has composite membrane voltage, high-throughput and high rejection rates, etc., but also with neutral and highly hydrophilic characteristics. And negatively charged than the traditional reverse osmosis composite membrane, LFC ® series clean the surface of reverse osmosis membrane element showing neutral (LFC1, LFC3 and LFC3-LD) or positively charged (LFC2). LFC2 reverse osmosis membrane is the world's only positively charged surface of aromatic polyamide reverse osmosis composite membrane. In 2005, the United States Hydranautics LFC membrane technology in the LD, the introduction of LFC3-LD, in the case of preserving performance, significantly reducing energy consumption.
Currently, LFC ® Series 8-inch products LFC1, LFC2, LFC3 and LFC3-LD of four varieties, 4-inch products LFC1-4040 and LFC2-4040 two varieties to meet different needs (detailed specifications and performance, please see the following models).
There are already more than a few one hundred thousand LFC ® series reverse osmosis membrane elements in the world hundreds of large and medium-sized projects using the most typical Singapore Kranji and Bedok urban wastewater reuse projects (Newater). In both projects LFC1 membrane since April 2000 has been put into operation every day from the wastewater system to take 72,000 tons of new water, LFC ® series reverse osmosis membrane elements could be applied with gender or cationic surfactants agent of industrial wastewater and municipal sewage.
LFC Series Performance parameters

Model

LFC3-LD

LFC1-4040

Type

Size

8 inch

4 inch

Membrane Polymer

Composite Polyamide

Membrane Active Area

ft2

400

85

㎡

37.2

7.9

The thickness of the water network,mil

34(LD Technology)

31

Performance

Salt Rejection,%

average

99.7

99.4

Min

99.5

99

Permeate Flow

gpd

11000

2300

m3/d

41.6

8.7

Test Condition

Nacl,mg/L

1500

Pressure,PSI(MPa)

225(1.55)

Temperature,℃

25

Permeate Recovery,%

15

Test Fluid pH

6.5-7.0

Application Data

Maximum Applied Pressure
Psi(Mpa)

600(4.14)

Maximum Feed Flow,gpm(m3/h)

75(17.0)

16(3.6)

Maximum Operating Temperature,℃

45

Feedwater pH Range

2-10

Cleaning pH Range

1-12

Maximum Feedwater Turbidity,NTU

1.0

Maximum Feedwater Turbidity SDI15

<5

Maximum Chlorine Concentration,mg/L

<0.1

Minimum Ratio of Concentrate to
Permeate Flow for any Element

5:01

Maximum Pressure Drop for Each Element psi(MPa)

10(0.07)